Digital Marketing can be a monster.  A giant, confusing, "whiteboard full of ideas" kind of monster.
I've been lucky enough to work with dozens of marketing directors in the Y movement.  You know what they all have in common?  They're busy.  Like really busy.
Like 5 different hats from 8am-2pm, then 5 completely new hats from 3pm-5pm.
One director once reached out to me about getting them setting up with with a new software service.  She said, "Honestly Jeremy, can you just tell me how many hours this would take you, and how much you'd charge to just fill out the forms for me?"
Sound Familiar?
If so, I think this article might be a good read for you.  And don't worry – I'll keep it short 🙂
What if I told you that there are 5 Major Marketing Strategies that you you could have up and running within two months?  With a fairly small amount of effort.  And it would make a HUGE difference to your impact and visibility online.  So much so that the CEO will ask in the next staff meeting, "Did someone flip a switch somewhere?" (That actually happened)
Here's a (short) list of opportunities you have available to you right now.  Most of them are completely free.  And I'm willing to bet that you're not aware of a few of them.  Let me reiterate … not your fault!   Remember – 10 hats is probably enough for an 8-hour day.
With that, let's dive right in.
1. Google My Business (Maps 3-Pack Ranking)
2. Featured Snippets in Google Search
3. A/B Testing with Google Optimize
4. Google for Nonprofits (Setting up Google Ad Grants)
5. Facebook Pixel Tracking (Setting up Retargeting)
Now, the first thing we need to do is get rid of the "Print First" mentality.  Marketing has evolved.  And if we're not playing the online marketing game, we're going to lose.
It sounds a bit harsh, but it's the truth.  Just look at the trends.  More money is now being spent for advertising online, then there is in all combined "offline" advertising.  That's an incredible statistic.  The world is changing, and if we're being honest, we already knew it.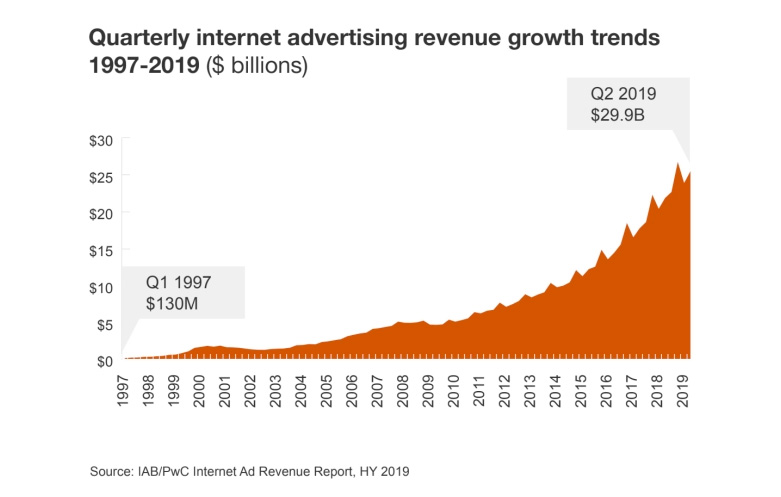 Now, the next thing you might say is, "I have no idea how to get started with any of those."  Well, good news!  I'll be releasing an article per week, over the next 5 weeks, describing how to get started on each point.  Emphasis on "get started" here.
Every single area has the potential to be a complete game changer for your Y.  I'm not kidding.  If one of these hits, you're going to be dealing with scalability issues.  I've seen it.
But by spreading out the efforts … getting started … dipping our toes into each of these 5 areas, we're hedging our bets.  It's like investing our "money" (time & effort) into multiple stock options, instead of putting all of our money behind that new start-up company.  That's smart investing, and believe it or not, that's smart marketing.
Welcome to the Digital Marketing world!
We'll take it one step at a time, and eventually, that ugly whiteboard full of lines and funnels, will make complete sense.  Follow along the next few weeks, and we'll get rolling together!
Let's Work Together
READY TO TAKE THE NEXT STEP WITH YOUR MARKETING?
I'd love to talk!  Launching a website is awesome.  Launching a nice website is even … awesome-er!  But that's just part of the solution.  What now?  How do you optimize that brand new, awesome website?  How do you know if things are "working" or not?  How do you measure success?  Is it actually growing your Y's impact and influence?  That's where the the "marketing" rubber, meets the road.  That's the "new breed" of marketers that are going to win.
Need some help?  Let's see if it's a good fit.