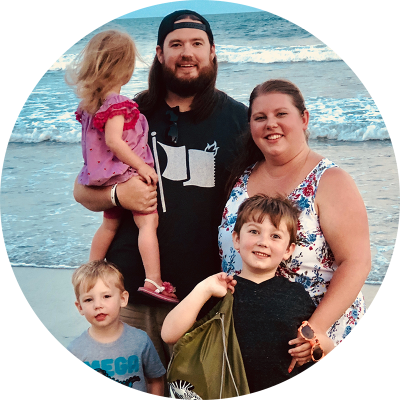 About Me
MY GOAL IS TO PROVIDE YOU WITH

AGENCY QUALITY WORK, WITHOUT THE AGENCY PRICES.
FIRST AND FOREMOST …
Thanks for visiting my website. I'm a husband, dad, brother and web developer, probably in that order. But you probably don't want to know me personally (yet), as much as you're interested in my work background.
Almost 10 years ago, I helped start a website development company from the basement of a friend's house. Over the next 10 years I gained priceless experience in management, development and in life. I've coded websites from scratch, learned new languages, implemented workflows, worked on multiple Content Management Systems, managed entire website projects, worked with large and small corporations, hired people, fired people, laughed, yelled, been proud, been humbled. And I think more than anything it helped me understand what I'm good at and what I am not.
WHAT I'VE LEARNED …
Over a decade of working in a start-up agency, I learned a lot about websites and even more about people. I learned that people don't really want to just buy a website. They want to find someone who they can build relationship with, that understand websites better than they do. They want that person to care as much about their online presence as they do. That's my goal.
WHAT YOU'LL GET …
Is a web developer that isn't looking to become an agency. What I mean is, I want to develop a few relationships and help build measurably successful websites that serve peoples' needs online. I want to provide agency quality work, without the overhead costs & pricing that an agency requires. I want the people I work with to be happy.  Because, well, that helps me sleep better at night.
Why Work With Me
MEASURABLE RESULTS & CONTROL OVER THE CONTENT.
Of course you need a website.  But anyone can build a website with of the monthly-paid platforms that are out there.  What you need is a successful website.  And a good relationship with a web developer that actually cares about your online presence.
You need a successful website +  content control + developer trust.  If that's you, we should talk.
Most Recent Work
HAVE A LOOK AROUND
YMCA of South Palm Beach County | Open Y
admin
2019-06-26T21:44:10+00:00

"Thanks for all your help!! It's a really great site and we've had tons of positive feedback. Couldn't have done it without you!"
"All I have heard from our guests and alumni is positive feedback on the website."
"Even before we started the initial process of creating this new website, it's something our association has been discussing (literally) for years. I'm so proud to have been a part of it – and working with you, Jeremy, has been nothing but fantastic!"
The News Corner
TRENDING & IMPORTANT WEBSITE NEWS
Let's Talk
TELL ME MORE ABOUT YOUR PROJECT
If you're ready to get started, or even if you're still in the planning stages, I would be excited to hear about your new project.  Let's talk and see if I'd be a good fit.